Flights to Bangkok, Thailand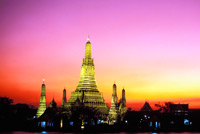 Love it or hate it, buzzing, sweaty, exotic Bangkok is a city that really is larger than life. For some, the frenetic pace, heat, traffic and lack of personal space can be overpowering and are good reasons to pass through the city as quickly as possible but, for many others, the sheer dynamism is intoxicating.
A curious blend of the traditional East with the modern West, Bangkok's every street has a surprise in hold for the visitor. Ramshackle buildings crouch next to exotic temples surrounded by delightful gardens, which are in turn overlooked by modern hotels and offices.
Search for your flights to Bangkok
Flights to Bangkok
Hotels in Bangkok
If you're just looking for a cheap hotel in Bangkok then click here to view our range of Hotels in Bangkok.
Other Places in Thailand
Phuket HKT
Phuket is Thailands largest island, approximately the size of Singapore. Phuket nestles in balmy Andaman Sea waters on Thailand's Indian Ocean coastline 862 kilometers south of Bangkok.
Phuket is blessed with magnificent coves and bays, powdery, palm-fringed white beaches, sparkling island-dotted seas, sincerely hospitable people, superb accommodations and seafood, delightful turn-of-the-century Sino-Portuguese architecture; numerous sporting and leisure opportunities; a lush tropical landscape - all of which combine to create a delightful ambience for truly memorable holidays.

Koh Samui
Has a nice ring to it doesn't it? Koh Samui (occasionally spelled Ko Samui) is an island of natural beauty and charm, a place where you can have your holiday anyway you like it, kicked back and relaxed or active and fast paced.
Beautiful white sand beaches, clean, clear warm water; lush tropical gardens and gentle ocean breezes await you at this ideal holiday destination. If you love the beach, this is the place for you!

Chiang Mai
Chiang Mai is a city built on the roots of a traditional heritage that dig deep into the soil of time. It's a city with a beautiful cultural personality of its own. In addition, it's been blessed with much majestic beauty in nature.

Chiang Rai
Thailand's most northerly province, Chiang Rai is located 785 kilometres from Bangkok and borders Myanmar in the north and Laos in the east. Built by King Mengrai in 1262 the province has a mainly mountainous terrain and helps form the 'Golden Triangle' around the Mekong River. Chiang Rai is a major draw for tourists keen to experience the region's natural attractions and learn about its place in Thailand's past.

Krabi
Krabi offers one of Thailand's most beautiful coast line, unusual limestone formations which cast extraordinary silhouettes, reaching far out into the Andaman Sea. Why not choose Krabi for your next vacation or just for a marvellous weekend journey.
If you like sun, the sea and a change from your every day routine, Krabi is the place to go. An enchanting place, all tightly packed into one tiny province.