Flights to Dubai, United Arab Emirates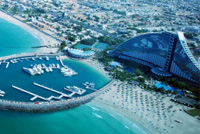 If it's a wonderful climate, an exotic destination and a cosmopolitan experience you're looking for, then the welcoming city of Dubai could have everything you want.
From luxurious seven star hotels, themed bars and restaurants, sprawling shopping malls and unique desert entertainment, Dubai will keep you happy and enthralled from the first day of your stay until your last.
Search for your flights to Dubai
Flights to Dubai
Hotels in Dubai
If you're just looking for a cheap hotel in Dubai then click here to view our range of Hotels in Dubai.
Other Places in United Arab Emirates
Abu Dhabi
Welcome to Abu Dhabi, where luxury and style are infused with traditional values of hospitality and respect. Where sunny weather, tranquil beaches, lush oases, vibrant city life, and a mixture of culture and traditions come together to create a holiday experience like no other. Explore the emirate's old souqs, sip a fragrant Arabic coffee, ride the dunes on an exhilarating desert safari, or dive into a dazzling marine life - there is something for everyone in Abu Dhabi.