Flights to Orlando, USA and Canada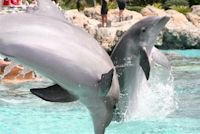 If you want fun, action and excitement, Orlando could be the place for you. Nearly every visitor to this part of Florida comes for the Theme Parks, and the most popular of those is the big one itself; Walt Disney World.
It's the kind of place children dream of visiting, adults too for that matter, and it's easy to see why. With four separate themed areas, including the famous Magic Kingdom, two water parks, golf courses, hotels, shops and more, there really is something for everyone.
Search for your flights to Orlando
Flights to Orlando
Hotels in Orlando
If you're just looking for a cheap hotel in Orlando then click here to view our range of Hotels in Orlando.
Other Places in USA and Canada
New York
Times Square, The Empire State Building, Statue of Liberty, Central Park – just some of the iconic landmarks that await you in this legendary city. Shopaholics will love to browse in the world class New York designer stores (breakfast at Tiffany's anyone?), and no trip will be complete without enjoying a spot of razzmatazz on Broadway, New York's theatre boulevard.
Fly in courtesy of some of the world's major airlines such as Continental, KLM, United Airlines and US Airways, to capture your very own slice of the 'Big Apple'. You'll be sure to 'have a nice day'! New York Airport are JFK, La Guardia and Newark Liberty International Airport

Las Vegas
Excess, decadence, gambling and glamour; few cities are as easily characterised as Las Vegas. From humble 18th century beginnings in the arid Mojave Desert, at the southern tip of the state of Nevada, Las Vegas has become the world's entertainment capital, where money talks and millions come to live life in the fast lane for a while at least.

Los Angeles
LA is exuberant - there are few places in the world where the phrase 'Express Yourself' is taken so literally. Hippy health fanatics exist happily alongside some of the most glamorous and wealthy people in the world. Most visitors come to enjoy world-class shops and restaurants, lie on beaches bathed in almost constant sunshine and simply to people watch.

Miami
Miami today is a city full of emotion, colour and texture. It is hot, sexy and affects all the senses, a strong reflection of its growing Latin culture. Hardly the brash, drug-ridden crime capital of America that was made famous in the 1980s television series Miami Vice, today's booming metropolis has since been dubbed 'America's Casablanca,' the 'Magic City' and, more recently, the 'America of the Millennium.'

Seattle
Looking for flights to Seattle? We have lots of cheap flights to choose from. Use the prices below as a guide to the best dates to travel.
Some of the airlines that fly to Seattle include : Air France, British Airways, Delta Airlines, KLM, United Airlines and US Airways.
Seattle Fact: Seattle is the northernmost U.S city with a population of over half a million.

Toronto
We search all the major airlines, including the low cost airlines, to bring you cheap flights all year round.
In this section we have listed a few of our customers favourite destinations, with airlines such as Air Canada, United Airlines, Air France and BA.

Washington
It is hard to believe, but the land on which Washington, DC's elegant National Mall and its stately buildings stand was once a marshy swamp. George Washington created this special district as a federal power hub to avoid the problem of establishing the capital city in any one state.